One of the hot products this holiday season is drones! In fact, it really didn't hit me until I was sharing some of my favorites with a friend. There are a lot of FUN drones on the market this holiday season.
While some may think of drones as being a warmer weather toy, now is the time to grab one for the family! Everyone from techies to photography enthusiasts to kids are having fun learning to fly drones.
Drones for the Whole Family
Looking for more Holiday Gift ideas? Check out our 2016 Holiday Gift Guide!
Stocking Stuffers for everyone on your list!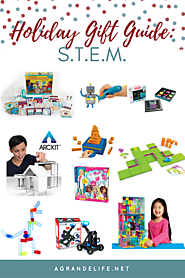 It's no surprise that STEM and STEAM toys are HUGE again this year. They picked up steam (pun intended) last year and they are plowing through again. There are STEM toys for every age level! Start them young.
Pick the perfect game for your next family game night!
Choosing a gift for an infant or toddler can be a daunting task. When picking out a gift for this age set, it's best to choose something not only entertaining but also educational. These toys will help them develop their gross and fine motor skills.