Looking for the best gifts for your everyone and in your budget can be a daunting task! Get a jump start this holiday season with our 2016 Holiday Gift Guide.
This guide will help you find something unique and special for EVERYONE on your list! Take a peek at what's inside! After you scroll through up top, don't forget to check back often because we have some fantastic giveaways going live next week!
Wanna see what's on the list? Get the details!
Stocking Stuffers for everyone on your list!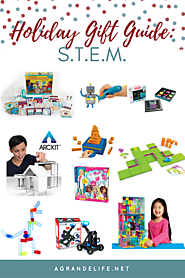 It's no surprise that STEM and STEAM toys are HUGE again this year. They picked up steam (pun intended) last year and they are plowing through again. There are STEM toys for every age level! Start them young.
Pick the perfect game for your next family game night!
Choosing a gift for an infant or toddler can be a daunting task. When picking out a gift for this age set, it's best to choose something not only entertaining but also educational. These toys will help them develop their gross and fine motor skills.