With the holidays quickly approaching, you are busy planning get togethers, shopping for Christmas presents, and moving that darn Elf. You may think you have everything covered but did you think about what you'll do to entertain your guests?
Entertain guests with the classics from Hasbro like Connect 4, Operation, Jenga and more this holiday season or decorate the kids table with the DohVinci Spotlight Spin Studio. If you have Star Wars fans in attendance, we have them covered too!
Check out our list of last minute party game ideas that will get your party started!
Dec 06, 2015 - amzn.to -

42
The exciting Pie Face game is filled with fun and suspense, and somebody's bound to get splatted! Just put some delicious whipped cream from home or the wet sponge on the "hand" of this hilarious game unit and start turning the handles. It could go off at any time, so keep your fingers crossed and hope you're not the one who gets a splat in the face! You score a point for every time you turn the handle without getting pie-faced, and the one who scores 25 points wins. Take some risks and hope for the best in this hilarious Pie Face game!
Dec 06, 2015 - amzn.to -

32
The classic buying, selling, and trading MONOPOLY game is headed to space just in time for the release of STAR WARS: THE FORCE AWAKENS. Travel around the galaxy and build bases on planets. When every planet is owned, count up the bases. The player with the most bases on the winning side is the ultimate winner! May the Force be with you! The MONOPOLY: STAR WARS Edition Game includes 1 Game board, 4 Tokens (including 2 characters from "The Force Awakens" introduced in this set), 44 Bases (22 Rebel, 22 Empire, all double-sided), 18 Rebel Force Cards, 18 Empire Force Cards, 4 Character Cards, 2 Dice, and 1 Money Pack.
Dec 06, 2015 - amzn.to -

31
Bring a galaxy far, far away to the palm of your hands with the BOP IT! STAR WARS R2-D2 Edition Game. Just like the classic BOP IT! game, players must twist, bop, and pull the R2-D2 figure in response to his commands to be the last JEDI standing in this fun and fast reaction memory game. The BOP IT! STAR WARS R2-D2 Edition Game features STAR WARS movie sounds and the voices of fan favorites R2-D2 and C-3PO. Requires 3 "AA" batteries, not included.
Dec 06, 2015 - amzn.to -

38
Find out who the biggest STAR WARS fan is in this classic party guessing game shaped like a MILLENNIUM FALCON! Choose a difficulty level and test each team's trivia skills and speed by describing the STAR WARS phrases as they appear on the device. Shout, gesture, and say anything else but the words in the answer to help your team guess correctly before time runs out!
Dec 06, 2015 - amzn.to -

34
Take control of a mighty Planeswalker preparing for battle as you enter the MAGIC: THE GATHERING ARENA OF THE PLANESWALKERS Game. Choose from one of five different, powerful Planeswalker figures to command as you move around the map in a race to out-maneuver your opponents and gain tactical advantages! Cast spells, summon creature squads, or go head-to-head in combat to try and ultimately defeat the enemy Planeswalkers. MAGIC: THE GATHERING ARENA OF THE PLANESWALKERS Game includes 6 modular board pieces, 4 plastic terrain pieces, 3 plastic glyphs, 2 temple ruins, 5 Painted Planeswalker Mini Figures, 30 Squad Mini Figures, one 20 sided die, 8 Combat dice, 30 Damage Counters, 60 spell cards, 10 Squad stat cards, 5 Planeswalker cards.
Dec 06, 2015 - amzn.to -

35
Stash and dash, but don't get mashed! Take turns scurrying around the board collecting berries to store in your tree stump, but beware of MASHIN' MAX! You never know when you'll set him off! If you do, he'll spin around the board and slam his giant fists down to capture your creature. Can your creature collect the most food and avoid MASHIN' MAX to win?
Dec 06, 2015 - amzn.to -

38
Let your creativity take center stage with the Spotlight Spin Studio! Now your DohVinci designs can enter all-new dimensions with this unique design-and-display turntable. To get started, load a Deco Pop tube into the Styler and place a flat or 3D project on the motorized spinning platform. While designing, shine the stable white light onto your project as you squeeze the Styler to create bold 3D lines, swirls, and anything else you can imagine. You can also spin by hand for a freestyle experience. When you're ready to display your designs, choose from 4 colorful and flashing light styles to feature your masterpiece in a spectacular lightshow! With 2 vase projects, 3 flat projects, a Styler tool, and 6 Deco Pop tubes (including 2 Blendables colors), this super studio comes with everything you need to turn arts-and-crafts time into a dazzling experience!
Dec 06, 2015 - amzn.to -

42
Your patient Cavity Sam is feeling a bit under the weather. Can you "operate" and make him better, or will you get the buzzer? Grab the tweezers and try with all of your might to take out all of his funny ailments. Can you help him with his pulled muscle or the frog in his throat? Operate with your steadiest hand, but don't forget to steer clear of the sides and avoid lighting the light!
Dec 06, 2015 - amzn.to -

33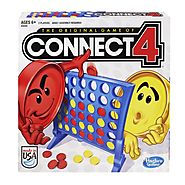 Whether via a game board with dice, a deck of cards, simple lines drawn on scrap paper, or electronic media, gaming is a global pastime that has enriched culture for millennia. From the most classic tabletop board games to up-and-active, play-to-learn games for preschoolers to the painfully funny party games that satisfy your wild side, Hasbro Gaming is a one-stop-shop for filling your games closet. While continuing to produce some of the most memorable games in the history of family gaming, Hasbro Gaming stays up-and-coming by developing games that incorporate digital content and by partnering with some of the biggest names in entertainment.
Dec 06, 2015 - amzn.to -

41
It's the classic block-stacking, stack-crashing game of Jenga. How will you stack up against the law of gravity? Stack the wooden blocks in a sturdy tower, then take turns pulling out blocks one by one until the whole stack crashes down. Is your hand steady enough to pull out the last block before the tower collapses?.